…………….
Return To Main COVID-19 Resource Page
…………….
Israel
…………….
Israeli Ministry Of Health Caught Lying & Manipulating Expert Report On Vaccine Adverse Events
The Israeli Ministry Of Health Caught Lying And Manipulating An Expert Report On Adverse Events
…………….
MUST WATCH & SHARE: Israel FOUND & COVERED UP Serious Side Effects From Pfizer Covid Vaccine!
Proof That Israel Found Serious Safety Problems With The Covid Vaccines Then Deliberately Covered It Up
…………….
More Proof From Israel: COVID Vaccines Don't Work. COVID Vaccines Are Killing People.
…………….
'The Jerusalem Report' With Ilana Rachel Daniel – Episode 1
…………….
Israel's Ministry Of Health Caught Deleting Thousands Of Negative Vaccine Testimonies
…………….
Israeli People Describe How The Pfizer Vaccine Destroyed Their Lives
Vaccine Injury Stories Pour In After Israeli Mom Launches Project To Expose Untold Suffering (LifeSite – 10/21/21)
…………….
News Reports:
• Vaccine Injury Stories Pour In After Israeli Mom Launches Project To Expose Untold Suffering (LifeSite – 10/21/21)
• Are Israel's COVID Policies Hurting Its Standing With U.S. Conservatives? (Newsweek – 10/18/21)
• Alex Berenson Tells Joe Rogan: 'Vaccine Mandates Have Absolutely Nothing To Do With Medical Realities' (The Defender – 10/13/21)
"The best data we have comes out of the UK and Israel," Berenson said. "And in the UK, at least 70% of the people who died from COVID in August were fully vaccinated, and that's straight from British government documents."
• 96% Fully Vaccinated In Israeli Hospital Delta Outbreak (pdf – Joseph Mercola – 10/13/21)
"The unvaccinated who got sick had only mild illness, while the fully vaccinated all ended up with severe infection. The unvaccinated recovered without a problem while several of the fully vaccinated patients died."
• Pfizer Admits Israel Is The Great COVID-19 Vaccine Experiment (Joseph Mercola – 09/21/21)
Israel was one of the first countries to implement draconian vaccination mandates, even though the Pfizer shot was completely experimental. Israelis were told they could not enter certain venues without a vaccination card, such as restaurants, gyms, swimming pools and hotels.
As a result, they now have one of the highest vaccination rates in the world. As of mid-September 2021, nearly 14.6 million doses had been administered. At two doses, that would give them a vaccination rate of 80.5%. It's probably a bit less than that, because Israel started giving out third boosters at the end of July 2021.
The first group to qualify for a third shot were seniors over the age of 60. Less than three weeks later, eligibility expanded to include people over the age of 40, as well as pregnant women, teachers and health care workers, even if they're younger than 40. By the end of August 2021, boosters were offered to all previously vaccinated individuals, all the way down to the age of 12.
By the second week of September 2021, when an estimated 2.8 million Israelis had received a third dose, a possible fourth dose was already being prepared.
Health Ministry director general Nachman Ash told Radio 103FM they still don't know when a fourth dose might be needed, but clearly, there's no indication that the boosters won't continue. And each time that happens, the people will forfeit their freedoms all over again, until they get the next shot.
…
The boosters in Israel were rolled out in response to obvious vaccine failure. Pfizer's shot went from a 95% effectiveness in December 2020, to 64% in early July 2021 and 39% by late July, when the Delta strain became predominant. While the country boasts one of the highest fully vaccinated rates in the world, they now also have one of the highest daily infection rates. So much for the hallowed concept of vaccine-induced herd immunity.
August 1, 2021, the director of Israel's Public Health Services, Dr. Sharon Alroy-Preis, announced half of all COVID-19 infections were among the fully vaccinated.
The vaccinated are not only susceptible to testing positive, though: They're also increasingly likely to experience serious disease when infected. Double-jabbed Israelis started making up the bulk of serious COVID-19 infections in July 2021, and by mid-August, 59% of serious cases were among those who had received two COVID injections.
Others have cited even higher numbers. August 5, 2021, Dr. Kobi Haviv, director of the Herzog Hospital in Jerusalem, appeared on Channel 13 News, reporting that 95% of severely ill COVID-19 patients were fully vaccinated, and that they made up 85% to 90% of COVID-related hospitalizations overall.
August 20, 2021, U.S. Centers for Disease Control and Prevention director Dr. Rochelle Walensky admitted that the Israeli data "suggest increased risk of severe disease amongst those vaccinated early," and just like the Israeli Ministry of Health, the CDC's answer to this dilemma is simply more shots, as if that's going to solve anything.
• Political Commentator Kim Iversen Unpacks 'Alarming And Shocking' COVID Data From Israel (The Defender – 09/17/21)
• Health Ministry Chief Says Coronavirus Spread Reaching Record Heights (The Times Of Israel – 09/14/21)
• Israel's 'Coronavirus Czar' Tells Citizens To Prepare For Eventual 4th Shot (ZeroHedge – 09/04/21)
• Israel Is Now The World's Covid Hotspot: Cases Soar Despite Country's Trail-Blazing Vaccine Roll-Out (Daily Mail – 09/02/21)
• Vaccine Fail: 64% Of Israel's Covid-19 Patients In Serious Condition Are Fully Vaccinated (VaccineDeaths – 08/13/21)
• Most Covid Patients At Israeli Hospital Fully Vaccinated (Spectator – 08/11/21)
In the interview on August 5 with Israel's Chanel 13, Dr Kobi Haviv, medical director of Herzog Hospital in Jerusalem, stated that the majority of coronavirus patients in an Israeli hospital are fully vaccinated, including those with severe disease. Dr. Haviv further specified that: "95% of the severe patients are vaccinated," adding "85-90% of the hospitalizations are in fully vaccinated people" and the hospital is "opening more and more COVID wards."
• Bombshell Leak: Countries That Buy Pfizer's Vaccine Undertake To Break The Law (Free West Media – 08/08/21)
On July 28, NBC Chicago reported that 169 people in Illinois died and 644 were hospitalized for Covid-19. Everyone was fully vaccinated. Israel with 9.3 million inhabitants was among the first to sign an agreement with Pfizer. The vaccination rate in the country is 55 percent, and 11,051,469 vaccine doses have been distributed. On June 30, the alarming news broke that fully vaccinated patients accounted for half of Covid adults hospitalized in Israel. In just over a month, the numbers have increased dramatically. Even from Iceland, which has a vaccination rate of as much as 71.1 percent, there are worrying reports that the majority of hospitalized Covid-19s have been fully vaccinated. Vaccines that have been presented as "safe" and painted as the only salvation in the pandemic, have turned out to be the opposite.
• Coronavirus: Who Are Israel's Seriously Ill Patients? (The Jerusalem Post – 08/05/21)
As of Thursday morning, there were some 250 COVID-19 patients in serious condition. What are their ages and what is their vaccination status? About 210 of them are individuals over the age of 60. Of those, 153 were fully vaccinated, seven were in the process of getting fully immunized and 50 were not vaccinated. Of the 40 patients in serious condition aged under 60, however, only nine were fully inoculated, one was partially vaccinated and 30 had not received any vaccine. Currently, there are no patients in Israel under the age of 30 who are in serious condition.
• Israel: Early Jab Recipients Twice As Likely To Catch Covid (Free West Media – 08/05/21)
Israelis who were vaccinated before late February are twice as likely to catch the Coronavirus than those who received the shot later, according to new research. The data suggests that the vaccinated have now involuntarily signed up for a lifetime of "booster" shots if they survive the vaccine.
• Death Rates Skyrocket In Israel Following Pfizer Experimental COVID Vaccines (Israel National News – 02/18/21)
• Local Talk Radio Reports "Many Dying" in Israel Following Pfizer Experimental mRNA Injections (Health Impact News – 02/06/21)
…………….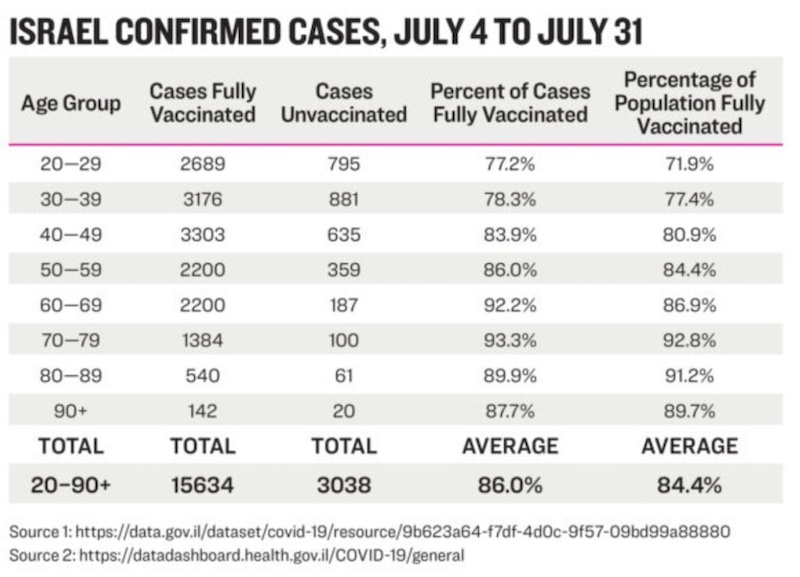 …………….
Dr. Zelenko Talks To Israeli Politicians And Health Minister About COVID Vaccines
…………….
"The Most Vulnerable Population Are The Ones Who Received Two Vaccine Doses"
Israeli Prime Minister Naftali Bennett:
"The most vulnerable population at the moment, in a paradoxical manner, are the ones who received two vaccine doses, but not the third dose. Why? Because they walk around feeling like they are protected because they received both doses. They do not understand that the second vaccine has faded against the Delta [Variant] and must get quickly vaccinated with the third vaccine dose. Therefore, each of us, including members of Knesset Gilad Kariv and Itlama Ben-Gvir who are both young. There are many young people (vaccinated) who are seriously ill, including hospitalizations. These ages are the most vulnerable. Because someone who didn't get vaccinated is aware of it for a year and a half… He is probably sitting in a closed room or something."
…………….
Israeli Prime Minister Says Unvaccinated 'Hurt Us All,' Are A Danger To Society
…………….
Herzog Hospital In Jerusalem: 85-90% Of Hospitalizations Are Fully Vaccinated People
…………….
Return To Main COVID-19 Resource Page
…………….