Recent Articles:
• Alien Motherships: Pentagon Official Floats A Theory For Unexplained Sightings (Lara Seligman / Politico – 04/14/23)
• Ukraine's Astronomers Say There Are Tons Of UFOs Over Kyiv (Vice – 09/13/22)
• U.S. Navy Denies FOIA Request Of UFO Videos, Says Release Would 'Harm National Security' (The Epoch Times – 09/10/22)
• The Pentagon Is Opening An 'Anomaly Resolution' Department To Study UFO (Motherboard – 07/22/22)
• 'Best Photograph Of A UFO Ever Taken' Released By Researches Over Remote Lake (Daily Star – 05/07/22)
• What Was The Calvine UFO Sighting And Are The Photos Real? (The Scottish Sun – 05/02/22)
• Disclosure Or Deception? New UFO Pentagon Office Divides Believers (NBC News – 01/08/22)
• UFOs, The Channel Islands And The Navy's 'Drone Swarm' Mystery (The Hill – 01/05/22)
• Report: Preliminary Assessment: Unidentified Aerial Phenomena (U.S. Office Of National Intelligence – 06/25/21)
• Declassified U.S. Government Report Reveals Pentagon Has No Explanation For 140 Unidentified Flying Objects (Daily Mail – 06/25/21)
• Obama Believes The U.S. Could Spend More On Weapons And Deal With New Religions If Aliens Do Exist (Daily Mail – 06/02/21)
• Harry Reid: What We Believe About U.F.O.s (DNYUZ – 05/21/21)
• 'We Don't Know Exactly What They Are': Obama Says UFO Sightings Appear Real (New York Post (05/18/21)
• 60 Minutes: UFOs Regularly Spotted In Restricted U.S. Airspace (60 Minutes – 05/16/21)
• Former Navy Pilot Recalls Seeing Hundreds Of UFOs, Calls Them Security Threat (The Sun – 05/15/21)
• UFOs Are Real, Feds' Cover-Up Fueled By Fear: Ex-Pentagon Whistleblower (New York Post – 04/30/21)
• How The Pentagon Started Taking UFOs Seriously (The New Yorker – 04/30/21)
• U.S. Navy 'Has Discussed Possibility UFOs Are Coming From Underwater Base' (Daily Star – 04/30/21)
• Inside 'Skinwalker Ranch' UFO Hotspot Probed By The Pentagon (The Sun – 04/28/21)
• Pentagon UFO Report: They 'Acknowledged The Reality,' Whistleblower Says (New York Post – 04/24/21)
• Pentagon Confirms Leaked Video Of 'Pyramid-Shaped' UFO Is Real (The Blaze – 04/16/21)
• Former Director Of National Intelligence John Ratcliffe: U.S. Has Secret Evidence Of UFOs (Daily Mail – 03/21/21)
• FAA Can't Explain Pilot's UFO Sighting Last Weekend Over New Mexico (Forbes – 02/25/21)
• Pentagon Admits It Has UFO Debris, Releases Test Results (Anthony Bragalia – February 2021)
• Pentagon Admits That It Has Been Testing Wreckage From UFO Crashes (Daily Mail – 02/14/21)
• What Do Alien Abduction And Psychedelic Experiences Have In Common? Let Dr. John E. Mack's Work Explain
• CIA Declassifies Nearly 3,000 Documents On UFOs
• COVID-19 Bill Started A 180-Day Countdown For UFO Disclosures
• What REALLY Happened At Roswell?
• Leaked Photo Surfaces Of Purported Unidentified Aerial Phenomena
• Former Israeli Space Security Chief Says Aliens Exist, Humanity Not Ready
• Who Is Haim Eshed? Israel Ex-Space Security Boss Says Aliens Exist, 'Galactic Federation' In Touch With Them, U.S.
• Confirmed: Navy's Previously Unreported 2019 Triangle UFO Incident
• Scientists Call For Serious Study Of 'Unidentified Aerial Phenomena'
• The Phenomenon, A Documentary From Longtime UFO Enthusiast James Fox
• Do We Believe In UFOs? That's The Wrong Question
• Explosive UFO Report In NYT Mentions 'Off-World Vehicles Not Made On This Earth'
• No Longer In Shadows, Pentagon's UFO Unit Will Make Some Findings Public (New York Times – 07/23/20)
• Inside the Pentagon's Secret UFO Program (Popular Mechanics – 02/14/20)
• Navy Pilot Who Filmed UFO Describes Moment It Stopped Behaving Within The Normal Laws of Physics
• Thousands of Government UFO Reports Now Available at Canadian University
• Edward Snowden: No Evidence Aliens Exist In Accessible Government Records
• The Navy Says Those UFO Videos Are Real
• Meet Silicon Valley's UFO Hunters
• Former US Defense Official: We Know UFOs Are Real – Here's Why That's Concerning
• 'Wow, What Is That?' Navy Pilots Report Unexplained Flying Objects
• Just Don't Call Them UFOs
• Frustrated Pilots Got Navy To Stop Dismissing UFO Sightings
• Harvard's Top Astronomer Says An Alien Ship May Be Among Us – And He Doesn't Care What His Colleagues Think
• Glowing Auras and 'Black Money': The Pentagon's Mysterious U.F.O. Program
………………
60 Minutes: UFOs Regularly Spotted In Restricted U.S. Airspace
• 60 Minutes: UFOs Regularly Spotted In Restricted U.S. Airspace (60 Minutes – 05/16/21)
………………
The Phenomenon
• The Phenomenon Website
• Watch it now on Amazon Prime
• The Phenomenon, A Documentary From Longtime UFO Enthusiast James Fox
………………
Joe Rogan Experience #1510 – George Knapp & Jeremy Corbell
………………
Joe Rogan Experience #1315 – Bob Lazar & Jeremy Corbell
………………
Documentary: Bob Lazar – Area 51 & Flying Saucers
• Netflix – Bob Lazar: Area 51 & Flying Saucers
• Amazon Prime – Bob Lazar: Area 51 & Flying Saucers
………………
Yes, Barack Obama Knows The UFOs Answer, But He 'Can't Tell You'
When one becomes president, they're privy to pretty much everything. But all anyone really wants to know about are aliens and UFOs. Barack Obama was no exception.
On Monday's "Late Show," the former president of the United States told Stephen Colbert that he "certainly asked about" their existence.
"And?" the CBS host pressed.
"Can't tell you," the former president responded.
Colbert took that as a definitive "Yes."
"Because if there was none you'd say there was none, right?" Colbert goaded his guest. "You just played your hand. I thought you were a poker player. You just 100% showed your river card."
"Feel free to think that," Obama replied.
"I will," the late-night leader said.
………………
Joe Rogan Experience #1597 – Joe Rogan Interviews Travis Walton
………………
Beyond UFOs: The Science of Consciousness & Contact with Non Human Intelligence
By Reinerio Hernandez J.D., Rudy Schild PH.D., Jon Klimo PH.D.
Amazon Description: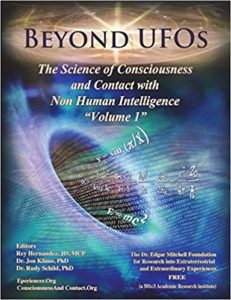 This 820 page book details the academic research findings of the world's first comprehensive multi-language quantitative and qualitative 5 year academic research study on individuals that have had UFO related contact with Non Human Intelligence (NHI) — The FREE Experiencer Research Study. Over the last 5 years FREE has collected detailed responses to 3 extensive quantitative and qualitative surveys from over 4,200 individuals from over 100 countries. Our survey findings from these thousands of "Experiencers" contradict much of what is circulating in mainstream materialist Ufology. Our academic book will establish a new paradigm for viewing the UAP (UFO) Contact Phenomenon. FREE argues that "Consciousness" and the paranormal and psychic aspects of this phenomenon is the key to understanding this complex phenomenon instead of the traditional materialist perspective of "nuts & bolt's" Ufology. The Dr. Edgar Mitchell Foundation for Research into Extraterrestrial and Extraordinary Experiences, or FREE, is a 501c3 Academic Research Not for Profit Foundation. FREE was co-founded by the late Apollo 14 astronaut Dr. Edgar Mitchell, Dr. Rudy Schild, an Emeritus Research Astronomer at the Harvard/Smithsonian Center for Astrophysics at Harvard University, Australian researcher Mary Rodwell and Rey Hernandez, an Attorney and Experiencer who was a Ph.D. Candidate at the University of California at Berkeley. FREE is comprised of retired academic professors and lay researchers who have been researching the field of Unidentified Aerial Phenomenon (UAP) and contact with Non-Human Intelligence (NHI) for more than 30 years. The Executive Director of FREE is Harvard Astrophysicist Dr. Rudy Schild.
Download a copy of Chapter 1 here (pdf)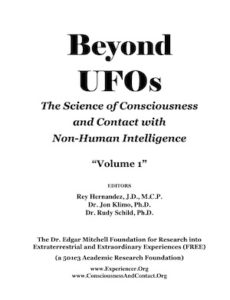 Related Links:
• The Dr. Edgar Mitchell Foundation for Research into Extraterrestrial and Extraordinary Encounters (FREE)
• The Dr. Edgar Mitchell FREE Foundation Has Published Their Groundbreaking Study On Consciousness and Contact
• Overview & Mission of FREE
• Skeptiko Interview with Rey Hernandez
• Near-Death and UFO Encounters as Shamanic Initiations (Kenneth Ring)
………………
The Edgar Mitchell Foundation for Research on Extraterrestrial and Extraordinary Experience (FREE)
………………
Travis: The True Story Of Travis Walton
Portrayed in the 1993 Paramount Pictures film, "Fire in the Sky," the documentary "Travis" offers a more intimate and accurate look at the experience of six woodcutters in Arizona's Sitgrave's National Forest who allegedly saw a UFO in the fall of 1975. One of the men, 22 year old Travis Walton, mysteriously disappeared after being hit by a beam of light which emanated from the craft. Now, on the eve of the 40th anniversary, Travis and the surviving crew members look back on what has become the most well-documented UFO encounter of all time, as well as a lifetime permanently shadowed by skepticism, ridicule and hardship. Directed and executive produced by Jennifer W. Stein in collaboration with Travis Walton. For more info including showings, please go to: traviswaltonthemovie.com
See also: UFO: Fire In The Sky: The Travis Walton Story
………………
………………
Unidentified: Inside America's UFO Investigation
………………
UFO Encounter at Ariel School in Ruwa, Zimbabwe
In total, there were 62 children outside of the school at the time, and most of the teachers were inside the school at a meeting. It was reported that only one adult was supervising the recess that morning, a mother of one of the children. She operated a snack bar for the students, selling soft drinks, candies, and other favorites. There had been reports of UFOs in the skies over Zimbabwe only two days before, but it is unlikely that any of the students were aware of these reports. Ariel was a private elementary school, hosting students of all backgrounds. Several of the children stated that they had seen three unknown flying objects in the skies over the school prior to the landing. Students saw the UFOs disappear then reappear in a different place in the sky. Finally, at least one of the UFOs either landed, or hovered just above the ground. The UFO was only about 100 meters from the students at play. The object was in a heavily wooded area, which was off limits to the students for safety concerns. Soon, what the students described as a "small man" could be seen on the top of the UFO. The occupant of the craft was described as being about one meter (3 ft.) tall, with a slender neck, long black hair, and very large eyes. He walked down the craft, and proceeded in the direction of the children. When he noticed the children, he disappeared, and was next seen in the back of the UFO. Within moments, the craft took off, vanishing into the sky over the school.
Many of the children were understandably frightened, the little man had evoked many stories they had heard about demons and ghosts. Some of the children ran to the mother who was attending the snack bar, but she did not believe their story, and continued with her duties. Two of Ufology's most respected investigators researched the Ariel School sighting. Cynthia Hind, now deceased, was known as Africa's top notch researcher, and she was at the school the next day. She requested the school's headmaster, Colin Mackie, to ask the children to make drawings of what they had seen the day before. When Hind arrived at the school, there were some 35 various drawings and sketches waiting for her. They were very similar in their depictions of the craft and being. Mackie told Hind that she felt the children were telling the truth about what they had seen. One of the students, a young girl, told Hind, "I swear by every hair on my head and the whole Bible that I am telling the truth." Also, Dr. John Mack, along with researcher Dominique Callimanopulos visited Ruwa. The two men spent two days doing interviews with 12 of the children and their parents. A few of the older students related that they felt they had communicated with the craft's occupants. They were informed that we were were destroying Earth by polluting it, and unless we changed our ways, we would face a failing planet. The Ruwa, Zimbabwe school sighting soon became news around the world, and was the subject of an episode of TV's "Sightings." Numerous interviews with witnesses have been released on the Internet, and it is considered one of the best "close encounter" cases in UFO history.
………………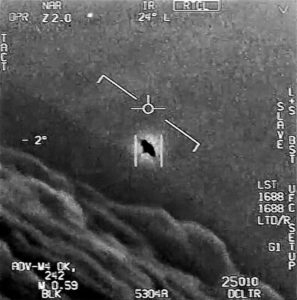 ………………
………………
Out Of The Blue – UFO Documentary
………………
Especially Important UFO Posts on NHNE Pulse:
• Obama Adviser John Podesta's Biggest Regret: Not Telling America About UFOs
• New Book: 'The FBI-CIA-UFO Connection'
• Roswell's Jesse Marcel Jr. Dead At 76
• New UFO Documentary: 'Sirius'
• World Economic Forum Ponders Consequences Of Contact With Alien Life
• 2007 Documentary: 'Best Evidence – Top 10 UFO Sightings'
• Ex-CIA Agent Says Roswell UFO Was Real & There Were ET Cadavers
• Underwater 'UFO' Most Likely A Rock, Not The Millenium Falcon
• UFO Caught On Tape Over Santiago Air Base
• UFOs & Government: Proposing A New Way Forward
• White House Says: No Alien Visits Or UFO Coverups
• Mayan Documentary To Show 'Evidence' Of Alien Contact In Ancient Mexico
• New Movie Planned About Betty & Barney Hill's Alien Abduction
• CNN: Why Is The Government Covering Up UFO Sightings?
• History Channel: 'Secret Access: UFOs On The Record'
• Scientists Ponder What Could Happen When Humans Encounter ETs
• Journalists Who Shun UFO Reports Fail Readers
• New Book: 'Area 51: An Uncensored History of America's Top Secret Military Base'
• FBI Vault: The REAL 'X-Files'
• 'Secret' FBI File Describes UFO Hoax
• UFO Videotaped Over Lafayette, Colorado
• British National Archive Releases More UFO Files
• Travis Walton On The Today Show
• UFO Documentary: The Phoenix Lights (Watch It Here)
• Stuart Davis Interviews Leslie Kean
• The UFO Cover-Up In 10 Minutes
• Scientists: Earth Must Prepare For Close Encounter With Aliens
• New Zealand Releases Classified Reports On UFOs
• UFO Documentary: The Day Before Disclosure
• UFO: Fire In The Sky: The Travis Walton Story
• UFO: If This Isn't A National Security Issue, Then What Is?
• UFOs Eyed Nukes, Ex-Air Force Personnel Say
• Leslie Kean Dismantles UFO Critic James Oberg
• New Book: "After Disclosure"
• New Book: "UFOs: Generals, Pilots and Government Officials Go On the Record"
• New UFO Documentary: "I Know What I Saw"
• "Out of the Blue" (Precursor to "I Know What I Saw" — Watch the complete documentary on Pulse.)
• Fife Symington On The Phoenix Lights
• UFO Files Released August 2009 By The UK National Archives
The articles referenced above are now archived here.
………………
Important Articles & Reports:
• 13 Reasons To Believe UFOs Are Real
• Former Pentagon UFO Official: 'We May Not Be Alone'
• Navy Pilot Recalls Encounter With Ufo: 'I Think It Was Not From This World'
• Head Of Pentagon's Secret 'UFO' Office Sought To Make Evidence Public
• Billionaire Bigelow Space Mogul Says He Is 'Absolutely Convinced' There Are Aliens On Earth
• People Are Seeing U.F.O.s Everywhere, And This Book Proves It
• Exclusive Full Interview Of Former Arizona Governor Discussing His Phoenix Lights UFO Sighting
• Bill Clinton on Aliens: 'If we were visited some day I wouldn't be surprised'
………………
………………
Especially Important (& Credible) Websites & Reports:
• The COMETA Report
• "I Know What I Saw" (UFO documentary)
• UFOs On The Record
• A.D. After Disclosure
• Ariel Phenomenon
• Wikipedia on Unidentified Flying Objects
• Wikipedia on Project Blue Book
• Wikipedia on The COMETA Report
• Project Blue Book Archive
…………..
> Download "The Enduring Enigma of the UFO" by Dean Radin <
…………..
…………..
Exclusive Full Interview Of Former Arizona Governor Discussing His Phoenix Lights UFO Sighting
…………..
…………..
…………..
………………
Information-Packed Websites:
• Mystery Wire
• The Disclosure Project
• Paradigm Research Group
………………
"Witness Testimony – UFO's at Nuclear Weapons Bases" – National Press Club, Monday, September 27, 2010. Robert Salas, Charles Halt, Robert Hastings, Bruce Fenstermacher, Dwynne Arnesson, Patrick McDonough, Gerome Nelson, Robert Jamison give testimony about their UFO encounters while they were on official duty in the US military.
………………
On Wednesday, May 9th, 2001, over twenty military, intelligence, government, corporate and scientific witnesses came forward at the National Press Club in Washington, DC to establish the reality of UFOs or extraterrestrial vehicles, extraterrestrial life forms, and resulting advanced energy and propulsion technologies. The Disclosure Project website, which hosted this event, is located here.
………………
In August of 1976, twin brothers Jim and Jack Weiner, along with their two friends Charles Foltz and Charles Rack, headed to the Allagash in Maine for a canoeing and camping trip. One night they experienced an incredible encounter with a UFO. Years later, after the brothers suffered from horrific nightmares, they underwent regression hypnosis. They were regressed separately and most of the men had startling similar recollections of what occurred during the night of the UFO sighting.
………………
………………
………………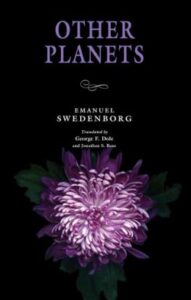 Other Planets
By Emanuel Swedenborg
Building on the eighteenth-century fascination with the possibility of life on other worlds and with traveler's tales of other cultures, this work describes life on other planets in our solar system and elsewhere in the universe. Swedenborg undertook this work specifically to demonstrate that Jesus is God not just of planet Earth but also of the universe as a whole.
…….
Life On Other Planets
In his short work Other Planets, which has also been published under the title Earths in the Universe, Emanuel Swedenborg tackles head-on the question of extraterrestrial life. But rather than speculating on physical encounters with alien life-forms, he instead reports on spiritual encounters with extraterrestrial beings—that is, meetings in the afterlife with spirits who, during their lifetimes, lived on other planets.
As a methodical thinker steeped in the sciences, Swedenborg seems to have anticipated that some would find it hard to believe what he wrote about life on other planets:
"If you know nothing of heaven's secrets, you might not be able to believe that anyone could see such distant planets or report anything about them on the basis of direct experience. Be aware, though, that spaces, distances, and consequently movement from place to place in the spiritual world are, in their origins and first causes, inner changes of state, and that to angels and spirits, these spaces, distances, and movements appear in accordance with those inner changes. Further, spirits and angels can by this means appear to be taken from one place to another and from one planet to another, even to planets that are at the edge of the universe. The spirit of a person in this world can also do this, even while the person's body remains in the same place. . . . The fact that our spirit can travel in this way is not something sense-oriented people can grasp, because they are immersed in space and time and measure their journeys by these criteria."
In the book, Swedenborg describes the lives of the people who live on these other planets, providing details of their society, their homes, their clothes, and their relationships. While he consistently refers to the spirits he meets as human (see below), he describes their physical appearance as very different from ours, with it varying from place to place or even among individuals from the same planet…
…….
………………