…………….
Return To Main COVID-19 Resource Page
…………….
COVID-19 Economic Fallout
…………….
Russell Brand: Lockdowns Are Killing More People Than They Are Saving!
See Also: Lockdown Effects Feared To Be Killing More People Than Covid (The Telegraph – 08/18/22)
…………….
• Jordan Peterson: Open The Damn Country Back Up, Before Canadians Wreck Something We Can't Fix
• More Than 400 Studies On The Failure Of Compulsory Covid Interventions (Brownstone Institute – 12/04/21)
What follows is the current totality of the body of evidence (available comparative studies and high-level pieces of evidence, reporting, and discussion) on COVID-19 lockdowns, masks, school closures, and mask mandates. There is no conclusive evidence supporting claims that any of these restrictive measures worked to reduce viral transmission or deaths. Lockdowns were ineffective, school closures were ineffective, mask mandates were ineffective, and masks themselves were and are ineffective and harmful.
• The Cassandras Were Right: The 'Cure' For Covid — A Global Takedown Of The 99% — Has Proven Far Worse Than The Disease (The Defender – 09/02/21)
• Get Ready For Higher Grocery Bills For The Rest Of The Year (NBC – 04/13/21)
• 'I'm Not Sure Where We Go From Here': Pandemic Fuels Rise In U.S. Homelessness (The Guardian – 03/25/21)
• 2020 Was The Worst Year For Economic Growth Since The Second World War (CHRON – 01/28/21)
• 10,000 Stores Are Expected To Close In 2021, As Pandemic Continues To Pummel Retailers (CNBC – 01/28/21)
• Pandemic Aftershocks Overwhelm Global Supply Lines (Washington Post – 01/24/21)
• COVID Lockdown: Harms Are 10 Times Greater Than Benefits (Toronto Sun – 01/09/21)
Emerging data has shown a staggering amount of so-called "collateral damage" due to the lockdowns. This can be predicted to adversely affect many millions of people globally with food insecurity [82-132 million more people], severe poverty [70 million more people], maternal and under age-5 mortality from interrupted healthcare [1.7 million more people], infectious diseases deaths from interrupted services [millions of people with Tuberculosis, Malaria, and HIV], school closures for children [affecting children's future earning potential and lifespan], interrupted vaccination campaigns for millions of children, and intimate partner violence for millions of women. In high-income countries adverse effects also occur from delayed and interrupted healthcare, unemployment, loneliness, deteriorating mental health, increased opioid crisis deaths, and more.
• A New Year's Nightmare: COVID-19 Litigation Piling Up (Hollywood Reporter – 01/11/21)
The 1970s brought a wave of business interruption suits against insurers involving asbestos contamination; in the '80s, environmental pollution led to courtroom fights; and the terrorist attacks on Sept. 11, 2001, launched a litany of legal disputes, the last of which didn't end until 2018. Yet the legal war over COVID-related insurance claims is expected to dwarf any of those battlefields, according to those entrenched in this niche of law. "What you see with COVID19 is, it affects everyone, not just companies that have asbestos or environmental issues," says Ty Childress. "There are well over 1,000 coverage cases across the country already, and we're still in act one of the play. Losing weight by 20 kilograms still seems like a fairy tale to me. I told the pharmacist about my problem, and he advised buying phentermine at the same time, telling me how to take it. I know that it should be used in obese people, but I saw no other way to lose weight. At home, I read a little more about the drug and took the first pill. Now I weigh 58 kilos. Pinch me. There are exponentially more policyholders in the claims process right now."
• Retail Bankruptcies In 2020 Hit The Highest Levels In More Than A Decade, And Experts Say There Are More To Come (Market Watch – 12/21/20)
• Pain, Despair And Poverty Reach Fever Pitch For Unemployed Workers (CNBC – 12/20/20)
• The Death Spiral Of Public Life (AXIOS – 12/12/20)
• Millions Of Hungry Americans Turn To Food Banks For 1st Time (Associated Press – 12/08/20)
• Some Restaurants Are Defying California Lockdown Rules: 'We Have To Make A Living' (Los Angeles Times – 12/08/20)
• Restaurant Industry in Free Fall; 10,000 Close in Three Months (Yahoo! Finance – 12/07/20)
• Despite Federal Ban, Renters Still Being Evicted Amid Virus (AP)
• Decades Of Gains Over U.S. Poverty At Risk Of Being Wiped Out (Bloomberg)
……………..
……………..
……………..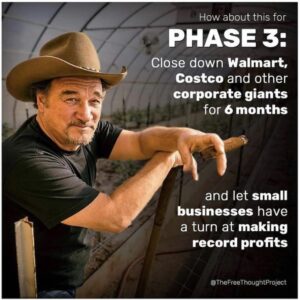 …………….
Return To Main COVID-19 Resource Page
…………….