…………….
Return To Main COVID-19 Resource Page
……………..
Teaser For Plandemic 3
Plandemic Series • Plandemic 3 Prelaunch Party • Plandemic 1 & 2
……………..
Plandemic 3: Prelaunch Party (September 16, 2022) & Movie Teaser
…………….
Teaser & Movie Trailer For Plandemic 3
…………….
Plandemic 3 Movie Trailer
…………….
Plandemic With Dr. Judy Mikovitz & Dr. David Martin
…………….
Plandemic
The first installment of Plandemic, a 26 minute documentary featuring veteran virologist Judy Mikovits, has been seen by over one billion people worldwide.
The premiere of Plandemic: Indoctornation, featuring white collar crime investigator, Dr. David Martin, set a world record with 2 million viewers attending the global livestream.
The two part series was smeared by critics as "dangerous conspiracy theory." US media took unprecedented measures to make the masses look the other way.
When Dr. Mikovits made the bold claim that COVID-19 was manipulated in a lab, she was smeared as "crazy".
When Dr. Martin exposed the patents and paper trail proving that that Dr. Fauci was covertly funding dangerous gain of function research at the Wuhan Lab, critics laughed.
One year later, they were no longer laughing. Through various independent investigations and accredited studies, every major claim made within the Plandemic series has been validated as accurate. The tide is turning. Truth is emerging.
The Plandemic series is now being hailed by many for being first to warn the world of the agenda to reduce the liberties of citizens through medical tyranny.
…………….
Related Links:
• Dr. David Martin: "The Fauci/COVID-19 Dossier"
• Plandemic Website
• Official Account: Plandemic Documentary Series on Bitchute
• Church of Glad Tidings "Free & Brave" Conference (that featured Dr. David Martin and Judy Mikovits)
• Plandemic: The Incredible True Story about the Most Banned Documentary in History (Book)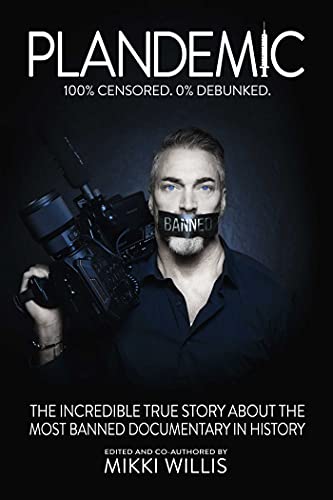 Amazon Description:
Researching the controversy arising after the release of the viral phenomenon known as Plandemic, the most seen and censored documentary in history, an investigative journalist sets out to disprove and debunk claims made throughout the film. Instead, the journalist opens a Pandora's Box to witness firsthand an underworld of corruption, lies, and the darkest of unsolved mysteries.
The result? A fascinating behind-the-scenes account about the making of Plandemic and Plandemic: Indoctornation; an exposé of the truth behind the origins of COVID-19; an alarming examination of individuals, such as Dr. Anthony Fauci and Bill Gates, and organizations like the CDC, NIH, WHO, and Bill & Melinda Gates Foundation, among others, driving the global vaccination agenda; and a look at the tech giant and mainstream media forces doing their utmost to silence and suppress the veracity of these findings.
Investigative filmmaker, Mikki Willis, focuses his unflinching lens on two key subjects; virologist Dr. Judy Mikovits, who speaks frankly about the machinations for control and profit corrupting individuals and institutions tasked with overseeing public health; and Dr. David E. Martin, whose research and shocking data corroborate allegations of conflicts of interest.
The US media and fact checkers condemned the two documentaries as, "dangerous conspiracy theory." Today, the two-part bombshell is being hailed globally for warning the world of the crimes against humanity that are just now being uncovered.
From the death of his brother and mother due to bad medicine, to his awakening at Ground Zero on 9/11, Mikki Willis describes in detail the incredible life experiences that led him to risk his career and safety to create the Plandemic series.
…………….
Plandemic – Part 1 (Dr. Judy Mikovitz)
…………….
Plandemic: Indoctornation – Part 2 (Dr. David Martin)
…………….
Plandemic – Q&A – Dr. David Martin & Dr. Judy Mikovitz (Dr. David Martin)
…………….
Return To Main COVID-19 Resource Page
…………….